Pregnancy Chiropractic at
Renew Family Health Center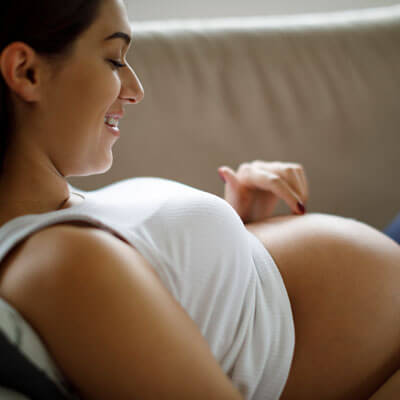 Pregnancy is a natural process and shouldn't be painful, but in many cases women experience low back pain, hip pain, sacral pain, or sciatica due to body changes and sometimes due to the effects of the hormone relaxin. Chiropractic care is safe and effective during pregnancy, we focus on biomechanics and proper joint function. We use non invasive techniques such as gentle adjustments, rehab, Webster technique among others to help moms have a healthier and pain free pregnancy. Also, research suggests that females that go see their chiropractor regularly tend to have shorter labor times.
Dr. Gretchen is certified in the Webster Technique which is a specific chiropractic analysis of the sacrum and pelvis. The goal of performing Webster technique is to decrease joint dysfunction, improve pelvic and sacral biomechanics, and improve nerve function in mothers. When there is a balance between muscles, joints, and ligaments during pregnancy you create an optimal environment for the development of your baby.
Benefits for Mom and Baby
Webster technique will help to decrease pressure in the uterus, allowing your baby to move and grow in an optimal environment.
Chiropractic care during pregnancy can:
Decrease pain
Increase range of motion
Improve function and biomechanics of joints around pelvic area.
Again, for the baby, chiropractic creates an ideal environment so the baby is going to be healthier and be able to move around freely. There won't be many restrictions for the baby. Chiropractic is also completely safe for babies.
How often do you recommend a pregnant woman to visit you and for how long?

It depends on the patient, but anywhere from one to two times a week for the whole pregnancy.

Do you adjust pregnant women differently or use a specific technique?

Dr. Gretchen uses the Webster Technique, which is a chiropractic pelvic analysis for pregnant. She is certified in this method.

What else can I do at home between my office visits to help my pain?

Between visits we recommend patients to drink water, ice if needed, and movement (as much as possible). Movement creates circulation, which helps the healing process.

Can chiropractic care help me to have a faster delivery time?

Quite possibly, yes! There is research that shows that women who get regular adjustments during pregnancy have a quicker delivery.

How can chiropractic care help after childbirth?

After birth is important to check the pelvis for misalignments and muscle weakness, they both are common. We use a combination of adjustment and exercises to reduce pain, increase muscle strength, and improve overall function.

How is pregnancy chiropractic care different in your office?

Not a lot of chiropractors in our area are certified in the Webster Technique. In addition, we also offer moms-to-be posture correction exercises.

During the visit, we usually go over some exercises that will benefit you and create more balance in the pelvic area. After that we use very gentle, soft tissue techniques where we work on stretching some muscles and maybe try to release some ligaments. Then we do very gentle adjustments on the SI joint of the spine.
Book an Appointment
Experience a more comfortable pregnancy with safe and gentle chiropractic care. Call Renew Family Health Center in Orland Park today for an appointment!
CONTACT US
---
Pregnancy Chiropractor Orland Park IL | (708) 645-4101