Meet Dr. Francis Puzon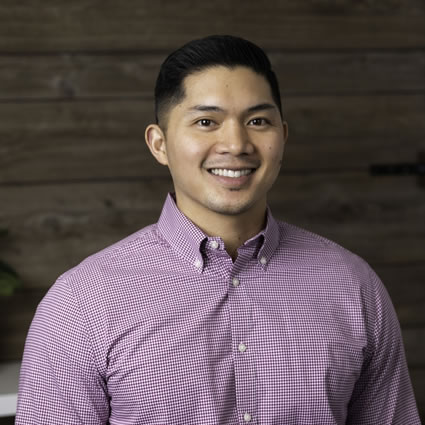 Dr. Francis was introduced to chiropractic care after suffering from a back injury from weight lifting. He didn't like taking pills and just thought his pain would end up going away. Even after a couple of weeks, he was still in pain.
With the convincing of my dad, I saw a chiropractor. After two visits, I was already feeling a lot better. And that's when I started to learn more about chiropractic from my chiropractor."
Dr. Francis earned his Doctor of Chiropractic from the National University of Health Sciences in 2012. He also is a Certified Chiropractic BioPhysics® practitioner.
It's About the Healthy Lifestyle
The chiropractic philosophy resonated with Dr. Francis. He liked what he learned as far as the approach goes to not just getting and keeping people out of pain but making chiropractic an important part of a healthy lifestyle.
Dr. Francis promotes the value of taking a proactive approach to health with his patients. He talks to them about how to prevent aches and pains from coming back and then teaches patients that these adjustments are not just going to be a bandage solution, but something that can be a routine part of their wellness regimen.
He also shares with his patients some holistic remedies to help prevent pain. For example, certain foods can be inflammatory and contribute to pain. Dr. Francis enjoys sharing his knowledge to help patients experience optimal health.
Experiencing That 'A-ha' Moment
While interning at a chiropractic clinic before even graduating, Dr. Francis found it fulfilling to help someone get relief from low back pain that had been bothering them. Dr. Francis also appreciated the guidance he received from older interns and his clinician.
CHIROPRACTIC CARE
Family and Favorite Activities
When he's not in the clinic, Dr. Francis is usually running on a trail, working out at the gym or spending time with his family and my friends. He also enjoys traveling and spending time outdoors with Dr. Gretchen.
Dr. Francis' parents are from the Philippines. Dr. Francis grew up primarily in the southwest suburbs of Illinois. He was always surrounded not just by his immediate family, but his extended family and cousins.
Book an Appointment
Contact Renew Family Health Center today to schedule a convenient appointment with Dr. Francis!
---
Dr. Francis Puzon | (708) 645-4101